Steps to create a 'read-only' account on your Veeam Backup and Replication server to enable vGRID Support to validate rental license counts
As a Veeam Service Provider, we are able to provide rental licenses to customers either directly or via Partners. And while licensing information is usually collected by the Veeam Management Agent service on your backup server, there are occasions when this may fail.
In instances when this does occur, we need to be able to connect to the Veeam instance and manually validate the license.
The following steps outline how to create an account that will allow vGRID read-only access to your Veeam instance.
Step 1: Allow remote access to Veeam Instance - here are the instructions to Enable Remote Management
Step 2: Create a local account on your Backup Server / VM, using a complicated password (alpha numeric, with symbols)
Step 3: Add this user to the 'Remote Desktop Users' group on that Server / VM
Step 4: Open Veeam Backup and Replication console, open the menu and select 'Users and Roles'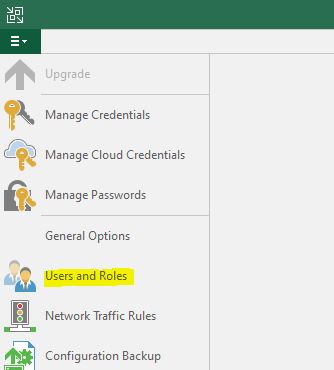 Step 5: Add the local account that was created to Veeam
- Click the " Add... " button

- Click the " Browse... " button
- Locate and select the user account that you created
- Click OK
- Change the Role to 'Veeam Backup Viewer', then press OK.
Step 6: Allow user access to Veeam registry keys
- Open Windows registry editor (regedit) on the Backup Server / VM
- Navigate to 'HKEY_LOCAL_MACHINE > Software > Veeam', then right click on 'Veeam' and select Permissions...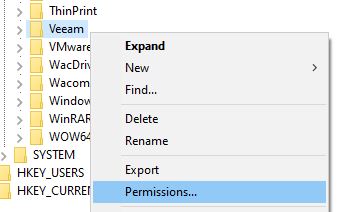 - Click the "Add..." button, locate and select the account that you created, then click OK.
- While the new user is highlighted, tick Allow for 'Full Control' & Read & click OK

Step 7: Disable UAC (using registry)
- Navigate to: 'HKEY_LOCAL_MACHINE > SOFTWARE > Microsoft > Windows > CurrentVersion > Policies > System'
- In the right pane, modify the value of the "EnableLUA" DWORD value from "1" to "0"
Step 8: Reboot the Server / VM
Step 9: Forward the user name and password of the account to vGRID Support.
If you have any further questions or need help, please contact our support team at support@vgrid.nz